Activity in the foreign exchange market decreases before the Fed meeting on monetary policy (We consider it possible to buy
Source: Forex Analysis

Attack by opponent drones of Riyadh to oil refineries had a limited impact on the foreign exchange market. The local surge in demand for defensive assets, including the Japanese yen, the Swiss franc, gold and government bonds of economically developed countries, was limited since the Saudis and Americans did not find objective grounds to blame Iran for this attack. Most especially, the fact that they pleaded guilty to this attack Hussites who have been fighting with Saudi Arabia in Yemen for more than one year. This recognition knocks out the basis for the US desire to launch a military operation against Tehran and negates the likelihood of military conflict in the Middle East in the current situation.
Now, the attention of investors is completely shifting to the final decision of the American regulator on monetary policy. Today, the two-day meeting of the Federal Reserve begins and tomorrow, its decision on interest rates will be announced. According to market expectations, the Fed will lower its key interest rate tomorrow by 0.25% to 2.00% from 2.25% with a 36.5% probability, which is significantly lower than expectations that were two weeks ago. Then the dynamics of futures for rates on federal funds showed almost one hundred percent confidence.
But then,investors' expectations of lowering interest rates have significantly increased immediately by 0.50% given the events of recent weeks filled with news about the escalation of the trade crisis between the United States and China, as well as the publication of mixed statistics on the American economy and the ECB's decision to start a large-scale program to stimulate the economy of the euro area, and Donald Trump's strongest emotional pressure on the regulator in his desire to significantly cuts the level of interest rates. Again, the dynamics of rates on the Federal Funds shows such a probability of 63.5%.
Assessing such significant shifts in market expectations, we believe that if the Fed really decides to cut rates immediately by 0.50%, this will have a very negative effect on the US dollar. At the same time, it will spur growth in demand for US stocks -at least in the short term.
Forecast of the day:
It seems that the EUR/USD pair will be trading in the range 1.0940-1.1110 before the final decision of the Fed. We consider it possible to buy it at a decrease, approximately from the level of 1.0940 with a local target of 1.1110.
The AUD/USD pair falls on the wave of the publication of the protocol of the last RBA meeting on monetary policy, which showed that the regulator is ready to further reduce interest rates to support economic growth in the country. We expect continued local price decline to 0.6800 and possibly, even to 0.6785.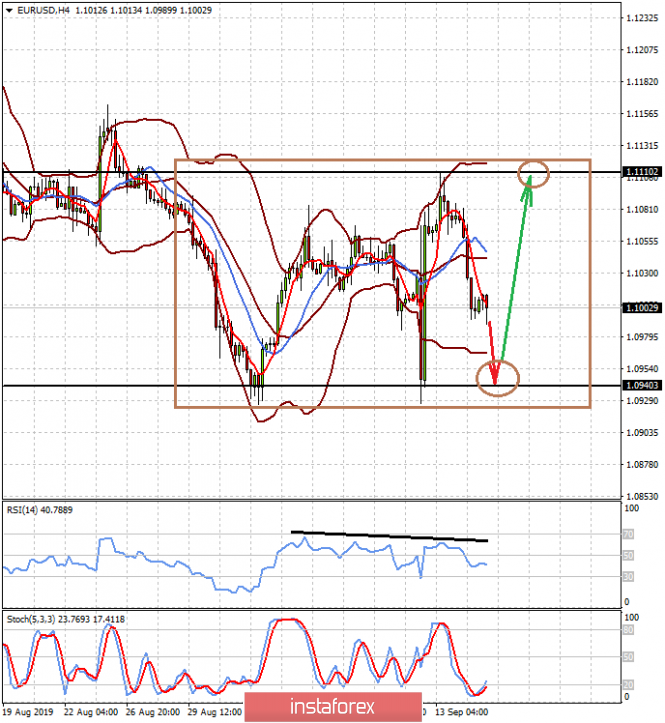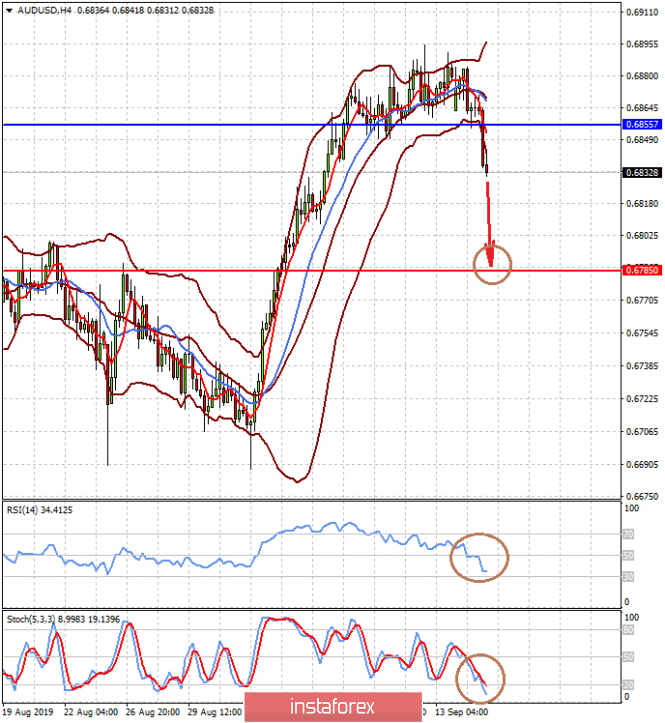 The material has been provided by InstaForex Company – www.instaforex.com