August 22, 2019 : GBP/USD Intraday technical analysis and trade recommendations.
Source: Forex Analysis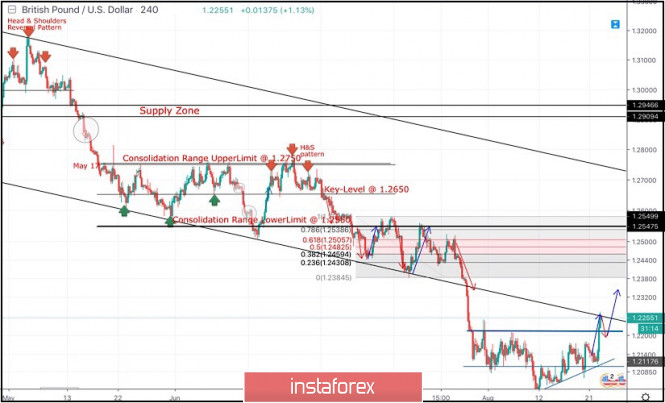 Since May 17, the previous downside movement within the depicted bearish channel came to a pause allowing the recent sideway consolidation range to be established between 1.2750 – 1.2550.
On July 5, a bearish range breakout was demonstrated below 1.2550 (the lower limit of the depicted consolidation range).
Hence, quick bearish decline was demonstrated towards the price zone of 1.2430-1.2385 (the lower limit of the movement channel) which failed to provide consistent bullish demand for the GBP/USD.
Moreover, Bearish breakdown below 1.2350 facilitated further bearish decline towards 1.2320, 1.2270 and 1.2100 which correspond to significant key-levels on the Weekly chart.
The previously-mentioned price levels were quite risky/low for having new SELL entries. That's why, Previous SELLERS were advised to have their profits gathered.
Two weeks ago, a temporary consolidation-range was demonstrated above 1.2100 before Friday when another bearish movement could be executed towards 1.2025.
Recent bullish recovery was demonstrated off the recent bottom (1.2025). This brought the GBP/USD pair back above 1.2100 (recently-established demand Level).
As expected, recent bullish movement was demonstrated towards 1.2230.
Further bullish advancement is expected to pursue towards 1.2320 if the current bullish momentum above 1.2100 (the short-term uptrend) is maintained on a daily basis.
On the other hand, any bearish breakout below 1.2100 invalidates the previous scenario allowing another bearish visit towards 1.2025.
Trade Recommendations:
Intraday traders are advised to look for a bullish entry anywhere around 1.2170.
Initial T/P level to be placed around 1.2250 and 1.2340 while S/L should be placed below 1.2100.
The material has been provided by InstaForex Company – www.instaforex.com