Coming week will be expectedly calm with a moderate positivity (we expect USD/JPY pair to grow and USDCAD pair to decline)
Source: Forex Analysis

A new week for world markets began quite calmly. The Chinese stock market is trading in positive territory, crude oil prices are in a slight negative after rising at the end of the previous week. As we can notice, everything is quite calm in the currency exchange market.
The reason for this picture is the conclusion of an agreement between the United States and China on the "first phase" of a large trade agreements between countries. This markedly reduced tension on world markets, since if this had not happened, then on Sunday, December 15, Washington and Beijing would have introduced the previously announced new trade duties, which, of course, would have dealt a severe blow to mutual trade between the two countries in particular and the global economy as a whole.
However, despite the agreement reached, the problems of US-Chinese trade relations have not yet been exhausted in general, which, in our opinion, continues to support the demand for defensive assets, which traditionally include US Treasury bonds, gold, and safe haven currencies – Japanese Yen and Swiss Franc.
Thus, generally, the US dollar remains under pressure in the currency market against a basket of major currencies, where the British pound and the single European currency continue to receive significant support. Their growth was due to the removal of Brexit's uncertainty factor after the UK parliamentary elections last week, where the Conservative Party led by B. Johnson won a landslide victory. And although the result of this victory will be a virtually guaranteed exit of their EU countries, which could threaten significant economic problems, the pound and the euro receive support in the wake of acting out this event.
On the other hand, interesting events for this week include publication of important data on production indicators from Europe and the USA, as well as the value of GDP in America and Britain, together with the retail sales in Canada. In addition, meetings of the Bank of England and the Central Bank of Japan about monetary policy will be held. In turn, eurozone consumer inflation figures will be presented.
In general, we expect that this week will pass in the markets quite calmly with a moderate positivity.
Forecast of the day:
The USD/JPY pair remains in a wide range of 108.50-109.70, but can break out of it in the future if it breaks through the level of 109.40, rising to 109.70. More so, a stimulus for the pair's growth may be an increase in demand for risky assets in the wake of the Christmas rally.
The USD/CAD pair is under pressure, on the one hand, in the wake of a local weakening of the US dollar, and on the other, a rise in crude oil prices, which received support after the signing of the "first phase" of the US-China trade agreement. Thus, we believe that the pair may continue to decline to 1.3045 after breaking the level of 1.3145.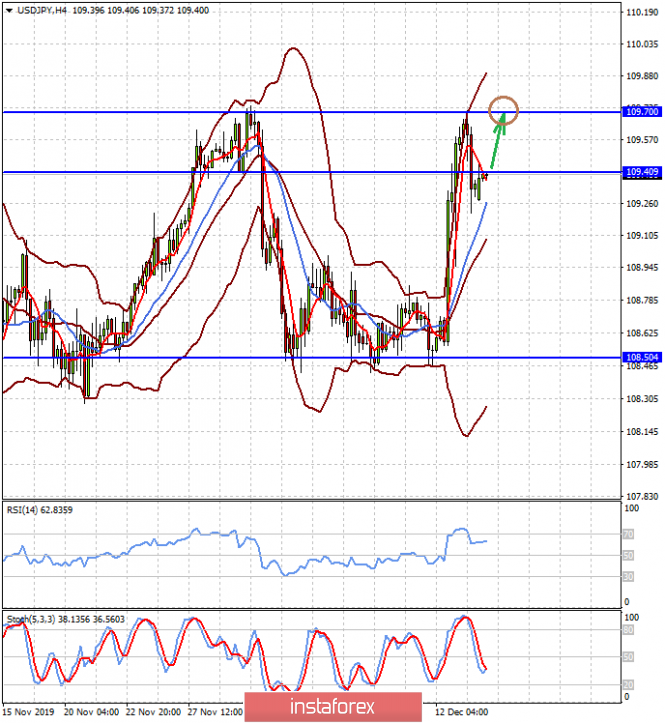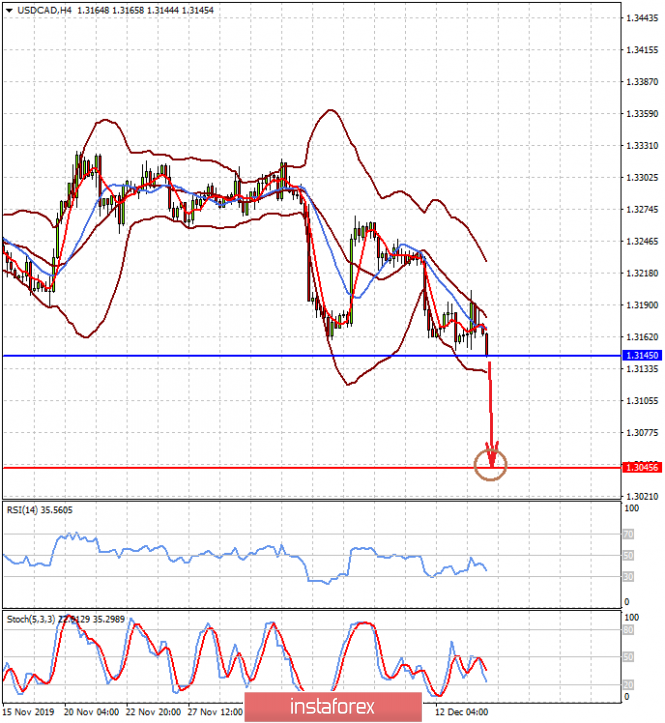 The material has been provided by InstaForex Company – www.instaforex.com