EUR/USD. July 11th. Results of the day. US inflation slows down, Powell begins second congressional speech
Source: Forex Analysis

4-hour timeframe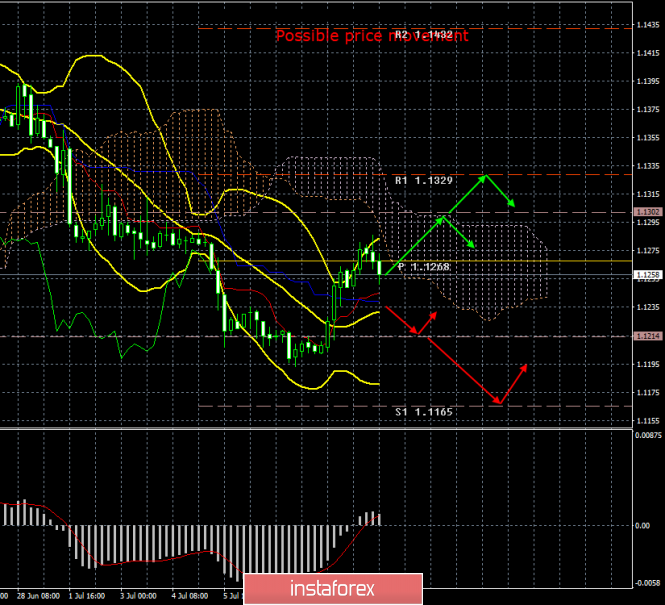 The amplitude of the last 5 days (high-low): 22p – 81p – 28p – 26p – 62p.
Average amplitude for the last 5 days: 44p (40p).
The euro continued to strengthen in the first half of July 11, but with the advent of the US trading session, the initiative intercepted the US dollar. The first main event of the day – the publication of a report on inflation in the United States, which did not cause any surprise among traders since the real value of the indicator was 1.6% y/y, which is fully consistent with the forecast. Indeed, inflation has slowed, but the foreign exchange market was ready for this. This was said during yesterday's speech by Jerome Powell. Today, he has already started his second speech in Congress, this time in front of the banking committee. It is unlikely that his rhetoric will differ from yesterday's and he will provide some fundamentally new information. In fact, yesterday's speech was not even surprising for market participants. Everyone has long known about low inflation. Everyone knows about the dangers for the US economy from Trump's trade wars. Everyone knows about the possible slowdown of the world economy. In light of this, we do not expect a new strengthening of the European currency today. Even in the coming days, it's prospects look very ambiguous. On the one hand, on the technical side, the correction may continue, as the traders managed to overcome the critical line. At least, now we are not talking about the resumption of a downward trend. On the other hand, the markets lose sight of the moment that the Fed has not yet lowered rates, and the ECB can lower it with the same probability as the Fed, thus preserving a certain balance, which will not allow the euro to strengthen significantly. In general, we believe that it is still too early for the euro to celebrate the victory and the completion of the dollar trend.
Trading recommendations:
The EUR/USD pair continues to be adjusted and has overcome the Kijun-sen line. Thus, it is now recommended to trade with targets of 1.1302 and 1.1329 in small lots and after the MACD indicator turns up.
It is recommended to sell the euro/dollar again not earlier than when the price consolidates below the Kijun-sen line with targets at 1.1214 and 1.1165. In this case, the initiative will return to the hands of bears.
In addition to the technical picture should also take into account the fundamental data and the time of their release.
Explanation of the illustration:
Ichimoku indicator:
Tenkan-sen – the red line.
Kijun-sen – the blue line.
Senkou Span A – light brown dotted line.
Senkou Span B – light purple dotted line.
Chikou Span – green line.
Bollinger Bands indicator:
3 yellow lines.
MACD Indicator:
Red line and histogram with white bars in the indicator window.
The material has been provided by InstaForex Company – www.instaforex.com