GBP / USD plan for the American session on September 12: The bulls returned to the market, preparing to break the next resistance
Source: Forex Analysis

To open long positions on GBP / USD pair, you need:
Yesterday's unsuccessful attempt by the bears to strengthen the downward correction only returned the market new large buyers who made a breakthrough at the resistance of 1.2385 in the morning today and fixed above this range, which was transformed to the level of 1.2397. The task of the bulls in the afternoon will be to break through the maximum of 1.2460, which I paid attention to in my morning review. This will lead to further growth of GBP/USD pair to the area of maximums at 1.2496 and 1.2534, where I recommend taking profits. However, one can count on such a big bullish leap only in the case of weak data on US retail sales. In the scenario of a downward correction at the North American session, it is best to consider long positions after updating support of 1.2397 or on the rebound from the middle of the recent side channel at 1.2345.
To open short positions on GBP / USD pair, you need:
Sellers defended the level of 1.2460, however, even this maximum does not yet want to open short positions. Only the release of a good report on US retail sales will lead to another false breakdown around this range, which will increase pressure on GBP/USD pair and push the pair to the support area of 1.2397 and possibly to the level of 1.2345, where I recommend taking profit. If the pound continues to grow with the opening of North American trading, then it is best to consider short positions in this scenario after updating the maximum of 1.2496, provided that there is a false breakdown or a rebound from the resistance of 1.2534.
Signals of indicators:
Moving averages
Trading above 30 and 50 moving averages, which indicates a return to the market buyers.
Bollinger bands
Under the scenario of a pound decline in the afternoon, support will be provided by the lower border of 1.2360.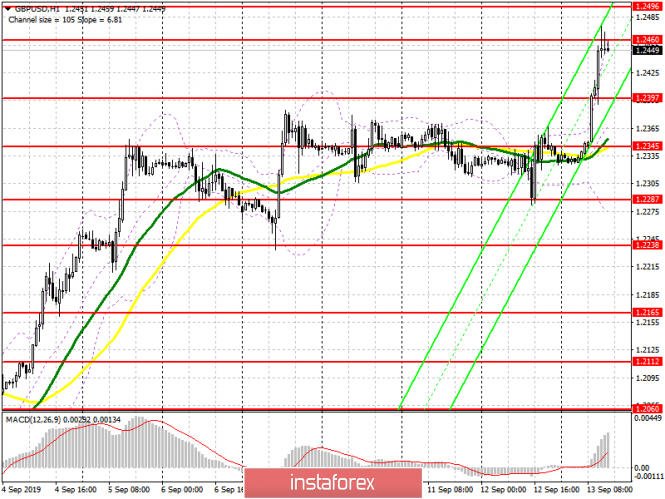 Description of indicators
MA (moving average) 50 days – yellow
MA (moving average) 30 days – green
MACD: Fast EMA 12, Slow EMA 26, SMA 9
Bollinger Bands 20
The material has been provided by InstaForex Company – www.instaforex.com