GBP/USD. July 11th. Results of the day. The Bank of England's financial stability report leaves much to be desired
Source: Forex Analysis

4-hour timeframe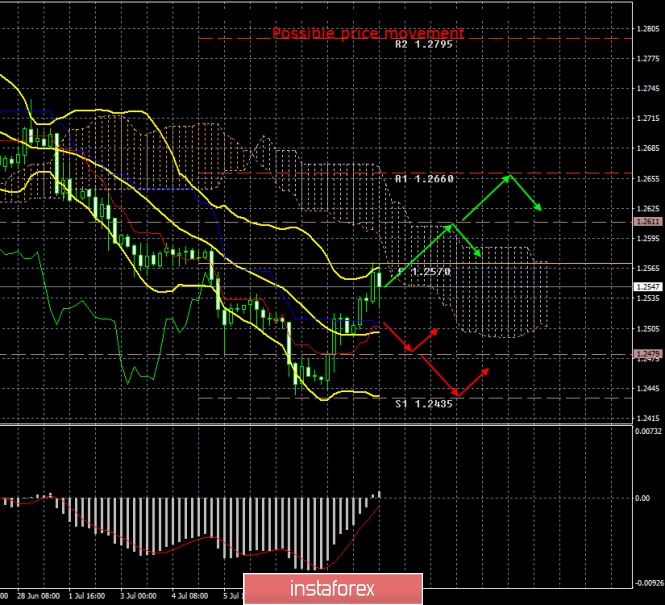 The amplitude of the last 5 days (high-low): 25p – 107p – 40p – 81p – 77p.
Average amplitude for the last 5 days: 66p (59p).
The British pound sterling also continued its upward movement in the morning, but collapsed in the second. The pound's fall was due to the fact that Jerome Powell will not surprise the markets at his second consecutive speech in Congress. Everything that the Fed chairman could say was already mentioned yesterday. But in the UK there was a report on the financial stability of the central bank that was published today. It should be noted that his tonality left much to be desired, although he didn't particularly surprise market participants. Mark Carney, the head of the Bank of England, still fears a prolonged Brexit, which has a negative impact on the economy, fears of a deal with the European Union, a decline in foreign investment and a further fall in the national currency. However, it assures that the UK banking sector is ready for possible shocks, and the central bank is not going to switch to ultra-soft monetary policy in the near future. Well, now we can only wait for information from Jerome Powell's speech and we can form a picture of the state of affairs for the pound/dollar pair in the light of the new possible changes in the Fed's monetary policy. The Bank of England is not going to cut rates, but the pound is unlikely to provide support, as Brexit continues to put pressure on all sectors of the UK economy. Accordingly, despite the possible weakening of the US monetary policy, the pound may well resume a downward trend in the near future. We recommend, however, to wait for technical confirmation of the resumption of the downward movement and only after that to resume trading on the decline.
Trading recommendations:
The pound/dollar currency pair continues its upward correction. Thus, traders are advised to wait for its completion (consolidation below the Kijun-sen line) and re-sell the pound sterling with targets of 1.2479 and 1.2435.
You can buy the British currency theoretically now with the first target of 1.2611. But the pound has already collapsed in the US trading session, which means that purchases are associated with increased risks.
In addition to the technical picture should also take into account the fundamental data and the time of their release.
Explanation of the illustration:
Ichimoku indicator:
Tenkan-sen – the red line.
Kijun-sen – the blue line.
Senkou Span A – light brown dotted line.
Senkou Span B – light purple dotted line.
Chikou Span – green line.
Bollinger Bands indicator:
3 yellow lines.
MACD Indicator:
Red line and histogram with white bars in the indicator window.
The material has been provided by InstaForex Company – www.instaforex.com