Simplified wave analysis and forecast for GBP/USD and USD/JPY on June 12
Source: Forex Analysis

GBP/USD
The upward wave of the British currency from May 31 has no reversal potential and acts as a correction of the previous section of the main trend from May 3. The structure of the wave is not showing completeness. Since June 7, the pound quotes form the middle part (B) of the structure, which lacks the final fragment.
Forecast:
Today, in the first half of the day, an upward movement vector is expected. In the area of the resistance zone, the probability of a change of course and the beginning of a price decline will increase sharply.
Recommendations:
The pair's purchases can be claimed at the end of the day after the price moves down. Due to the high probability of counter-rollbacks, pound sales carry a high degree of risk. The best solution is to refrain from trading during the correction and look for the entry signals to long positions at its end.
Resistance zone:
– 1.2750/1.2780
Support zone:
– 1.2680/1.2650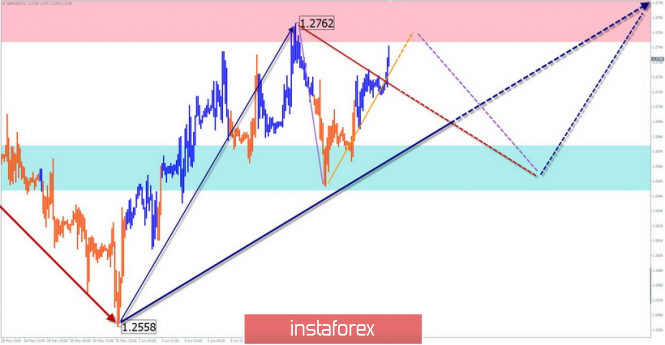 USD/JPY
The bullish wave of the Japanese yen, which started on June 3, increased its wave level in the process of development. Preliminary analysis indicates the formation of a correction to the larger bearish trend wave of May 21. The structure of the rising wave lacks the final spurt upwards. In the framework of the last part, a pullback is developing from yesterday.
Forecast:
In the first half of the day, the price is expected to continue to decline, until its full completion as part of the settlement support. Puncture of its lower boundary is unlikely. By the end of the day, there will be a chance of a reversal and the beginning of the price rise of the pair, which can take a pulse form.
Recommendations:
Sale has a small capacity and is therefore irrelevant. In the area of the support zone, it is recommended to monitor the reversal signals of your trading systems to find the entrance to long positions.
Resistance zone:
– 109.00/109.30
Support zone:
– 108.20/107.90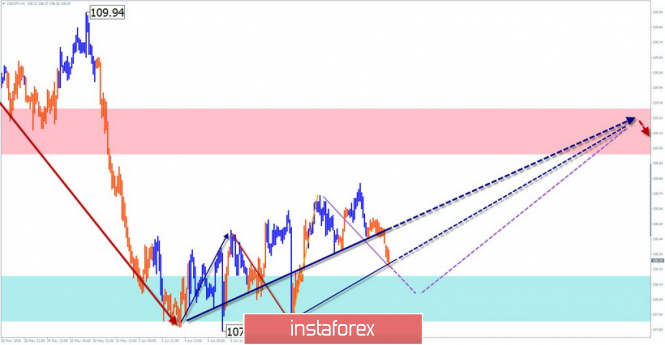 Explanations to the figures: Waves in the simplified wave analysis consist of 3 parts (A-B-C). The last unfinished wave is analyzed. Zones show areas with the highest probability of reversal. The arrows indicate the wave marking according to the method used by the author, the solid background is the formed structure, the dotted ones are the expected movements.
Note: The wave algorithm does not take into account the duration of tool movements over time.
The material has been provided by InstaForex Company – www.instaforex.com