Technical analysis recommendations for EUR / USD and GBP / USD pairs on June 14
Source: Forex Analysis

Fundamental component
The main influence on the possibility of the movement today may have a block of statistics from the United States, which is expected at 19:30 UTC+0. In addition, following the publication of economic indicators will make the head of the Bank of England (19:55 UTC+0), which may also have some effect on market preferences.
EUR / USD pair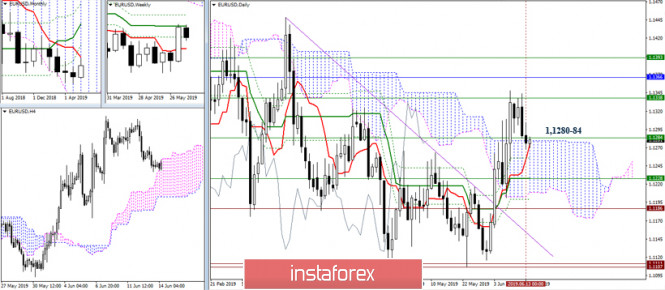 The pair continues to be in the zone of influence at strong levels of 1.1280-84 (weekly Fib Kijun + daily Senkou Span B). In addition, the daily short-term trend has risen to 1.1275, which helps players on the rise today. The formation of a rebound in this area will increase the chances of players to increase to return to resistance, while bullish interests will be directed to consistently overcome 1.1338 (weekly Kijun) – 1.1366 (monthly Tenkan) – 1.1393 (weekly Fibo Kijun). On the other hand, a decrease under the current support and consolidation in the day cloud will allow players to step up their moods by forming shortcuts from the tested resistances of weekly Kijun and monthly Tenkan. In this case, the nearest support will be 1.1256 (daily Fib Kijun) and 1.1228 (weekly Tenkan + daily Kijun).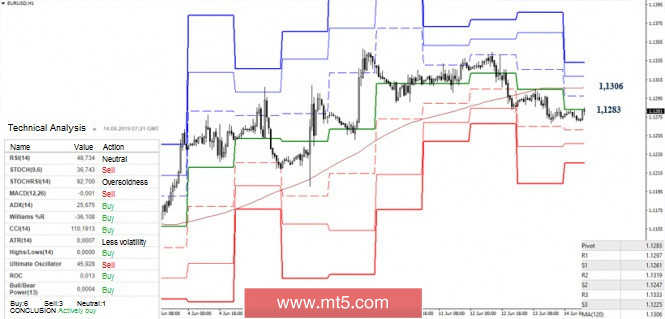 The unresolved issue in the senior halts is supported by technical tools on H1. Indicators now prefer players to rise, who are actively supporting purchases, but key levels retain an initial advantage over the opponent, which forms resistance. Upward players can make a difference by rising and entrenched above 1.1283 (central Pivot day level) – 1.1306 (weekly long-term trend). An update of yesterday's low will continue the downward trend of H1. Downward orientations are located today on the support of the classic Pivot levels at 1.1261 – 1.1247 – 1.1225.
GBP / USD pair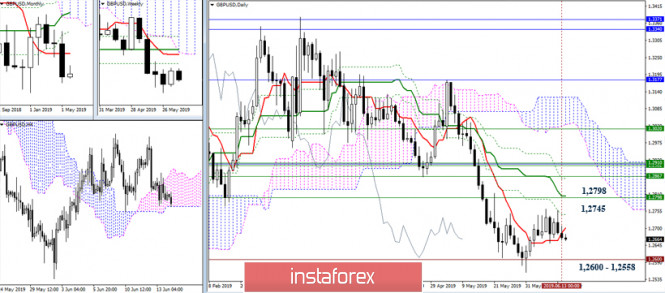 Over the past day, the players to fall almost did not change the situation, remaining in the zone of attraction of the daily short-term trend. In the meantime, this level has slightly changed its location. Due to a long stay in the correction zone, Tenkan is preparing the conditions for changing the daily cross of Ichimoku. In the case of continued decline, the support of 1.2600 (psychological level) and 1.2558 (minimum extremum) is most important now as noted earlier.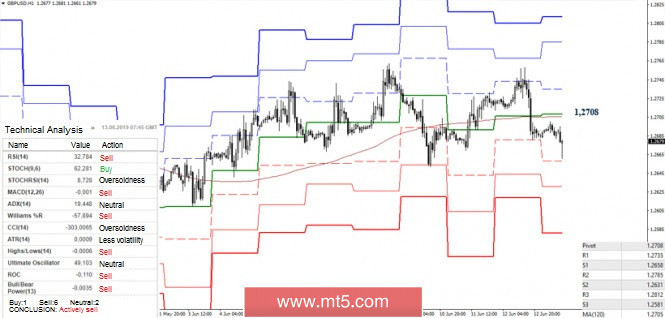 Short-cut players enjoy the advantage and support of technical tools on H1. If it were not for the influence and attraction of the daily short-term trend, which in the current situation strengthens today's support of the S1 classic Pivot-levels at 1.2652. Then, the decline will most likely continue. The following downward orientations are S2 (1.2633) and S3 (1.2606). Fixing above the zone of key resistance (H1) at 1.2679 (central Pivot-day level) – 1.2701 (weekly long-term trend) will affect the current balance of forces and create prerequisites for further strengthening of bullish moods.
EUR / USD and GBP / USD divergence (daily timeframe)
No new divergences.
Ichimoku Kinko Hyo (9.26.52), Pivot Points ( classic ), Moving Average (120)
The material has been provided by InstaForex Company – www.instaforex.com