Volume analysis and trading idea for oil
Source: Forex Analysis

Greetings, dear traders! I present to you the volume analysis for oil.
Monday and Tuesday of the current week showed a sharp decline in prices. There was a breakdown of the daily trend line and a breakdown of the horizontal level of 55.76, which were quite visible to all market participants. In addition, the breakdown of these technical elements on the daily chart made it clear to everyone that sales are the priority.
At the same time, the price was in the purchase zone (absorption), and yesterday, the progress of purchases from this zone was shown, closing the price above the previous one. This means that Monday and Tuesday of the current week are false, and there is a high probability that the maximum of 58.17 will be broken.
The second intended target is 59.50.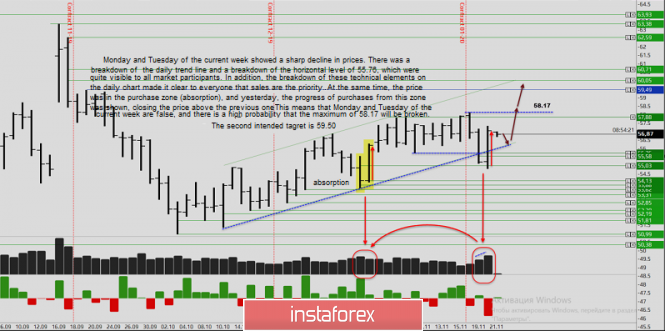 Yesterday, very weak data on oil reserves was published in the United States, which pushed oil to increase. On the other hand, while the price is in the zone of the news bars purchases, which have large volumes, the expectation for the breakdown of 58.17 is up according to the daily plan.
The nearest level for manipulation is 56.73, from which the possibility to purchase can be considered.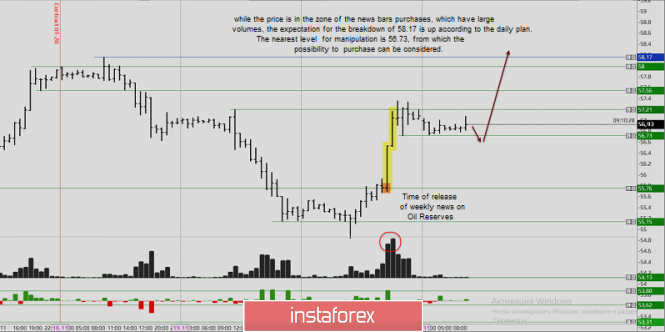 Have a successful trading!
The analysis is given on the futures of American oil. Thus, it is recommended to move trading levels which are relative to the candlestick bodies.
The material has been provided by InstaForex Company – www.instaforex.com